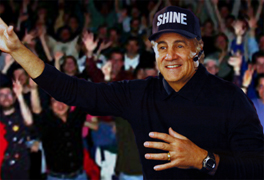 Larry Thompson
"TUESDAYS WITH LARRY"
Larry Thompson, Global Motivator and Author of SHINE, consistently appears as a Celebrity Expert on National and International Television shows such as Dr. Phil, Extra, Entertainment Tonight, Access Hollywood, The Insider, E! Entertainment, Fox News Live, Court TV's "Catherine Crier Live," Celebrity Justice, and The Swan as well as Good Morning TV London, The Trish Goddard Show, and BBC 4's Loose Ends.

Dear Friend:
Beginning Tuesday night, August 2, 2005, at 7:00pm (PDT), join me live on the phone for the first of six installments of "Tuesdays With Larry." Over six successive Tuesday nights, I will be conducting a live interactive Telecourse on SHINE: The Powerful 4-Step Plan For Becoming A Star In Anything You Do. The six one-hour Teleclasses of this popular, life-changing Telecourse are:
1. August 2 - STARDOM
2. August 9 - IDENTIFY YOUR TALENT
3. August 16 - SUMMON YOUR RAGE
4. August 23 - ASSEMBLE YOUR TEAM
5. August 30 - LEARN TO GET LUCKY
6. September 6 - IT'S SHOWTIME!
For more details on the teleclasses or how to subscribe, either call us at (619) 308-9659 or visit our website, www.ProjectRiseandShine.com.
I certainly hope that you will decide to participate. If you are unable to do so, perhaps you know a friend, relative, associate, client, or employee who may stand to benefit from these engaging teleclasses.
I encourage you to forward this Newsletter to anyone and everyone you feel might need a little assistance in getting "their train on the right track" and "fulfilling their dreams." They will thank you for it.
See you on Life's Red Carpet.

Larry Thompson
Global Motivator and Author of SHINE
310-288-0700
www.ProjectRiseandShine.com
About Project Rise and Shine, Inc.: Project Rise and Shine, Inc. is a Los Angeles-based media company bringing together the collective wisdom of acclaimed Hollywood film producer, personal manager to over 200 Stars, author, and motivational speaker, Larry A. Thompson, with other eminent teachers, celebrities, writers, athletes, business leaders, and motivational speakers who have devoted their careers to helping people invigorate and enhance their personal and professional lives. Project Rise and Shine, Inc., delivers life improvement content via multiple distribution channels including online, books, television, print media, retail products, telecourses and live events. For more information, visit www.ProjectRiseandShine.com.